Posters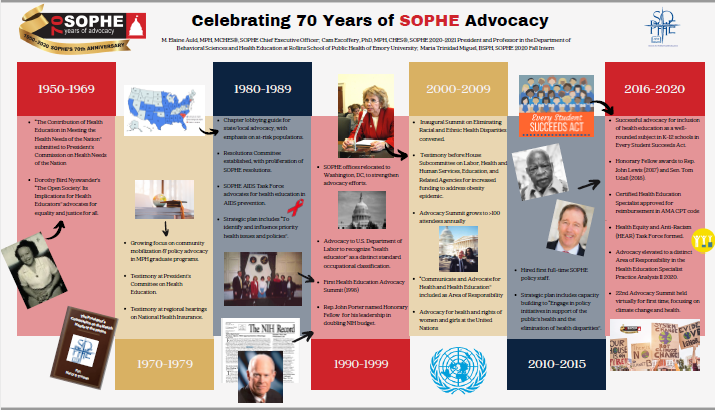 Celebrating 70 Years of SOPHE Advocacy
The Society for Public Health Education has been advocating for 70 years for prevention, public helth and health promotion policies at the federal, state, and local level.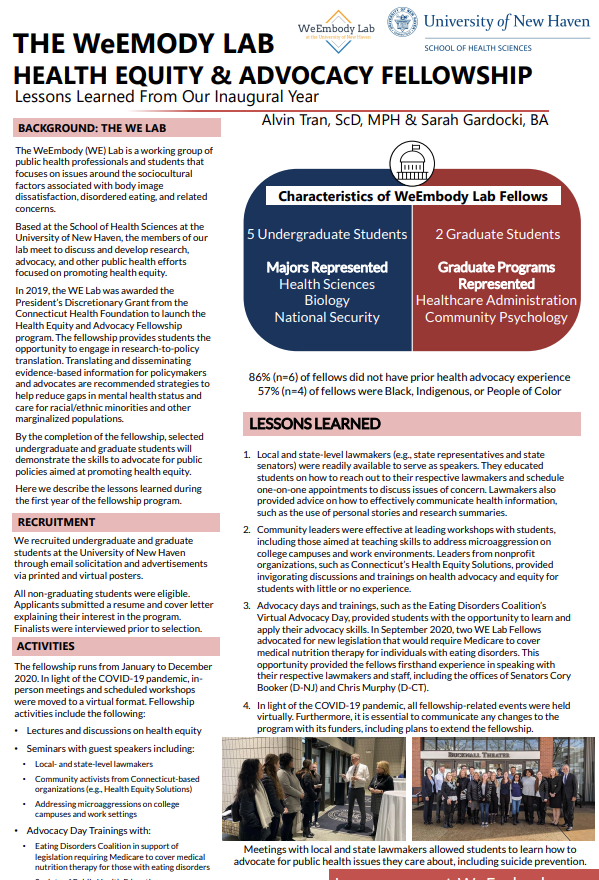 WeEmbody Health Equity and Advocacy Fellowship: Preliminary Results
Through the WeEmbody (WE) Lab, we established the Health Equity and Advocacy Fellowship program. This program aims to provide University of New Haven students the opportunity to engage in research-to-policy translation. Translating and disseminating evidence-based information for policymakers and advocates are recommended strategies to help reduce gaps in mental health status and care for racial/ethnic minorities. Efforts may include the development of policy briefs and fact sheets using a team-based approach, and formulating a dissemination plan to distribute key information of pertinent health issues to decision-makers for policy or legislation development.
Project E-Nuff: A Guidebook on Effective ECL Engagement
For four years (2015-2019), Breathe California's Project E-NUFF worked closely with 20 diverse Emerging Community Leaders (ECLs) from priority populations to decrease access to tobacco products for a Community Action Model grant-funded project in San Francisco. During the course of these four years, Project E-NUFF ran a successful campaign that helped produce local research, community education, and key messaging in support of eliminating the sale of all flavored tobacco products in San Francisco, a first-city-in-the-nation policy. During this process, Project E-NUFF developed unique ways of engaging with ECLs that led to policy success.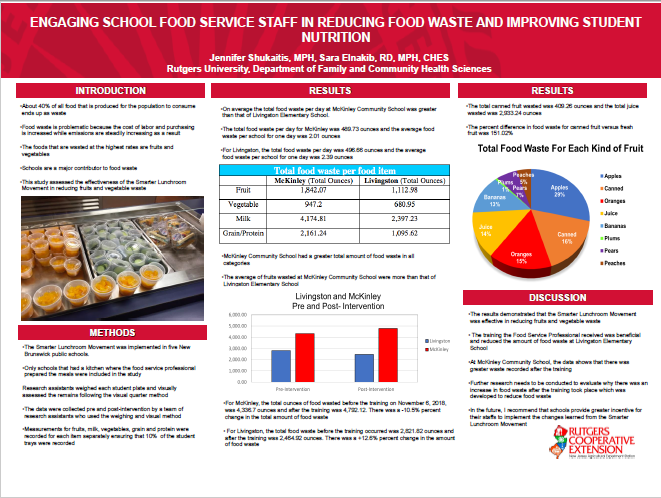 Engaging School Food Service Staff in Reducing Food Waste and Improving Student Nutrition
The Environmental Protection Agency (EPA) has reported that reducing food waste is necessary to create a sustainable food system. Schools are a major source of food waste and therefore, a potential source of significant food waste reduction. Recently, the USDA and the EPA teamed up to create the first-ever school food waste reduction guidelines.Studies have assessed the range of school food waste to be between 26% to 45%. These studies have also found that multifactorial interventions that include nutrition education and changing the lunchroom environment to increase availability and improve taste expectations of meals have had success in increasing consumption of fruits, vegetables and low-sugar milk. However, very few school-based studies have measured food wasted from the entire meal, and many studies measured food waste in a small number of students or in 1-2 schools. For this intervention, research staff implemented a school food waste reduction program in two low-income, Community Eligibility Provision school districts that included: 1) pre- and post- measurements of food waste in school lunchrooms; and 2) trainings for food service staff that introduced the issue of food waste, provided data on food waste in participating schools (collected during part 1's pre-intervention baseline assessment), provided information on the USDA's Offer vs. Serve guidelines, and explained how to implement behavioral economics techniques that have been shown to reduce food waste.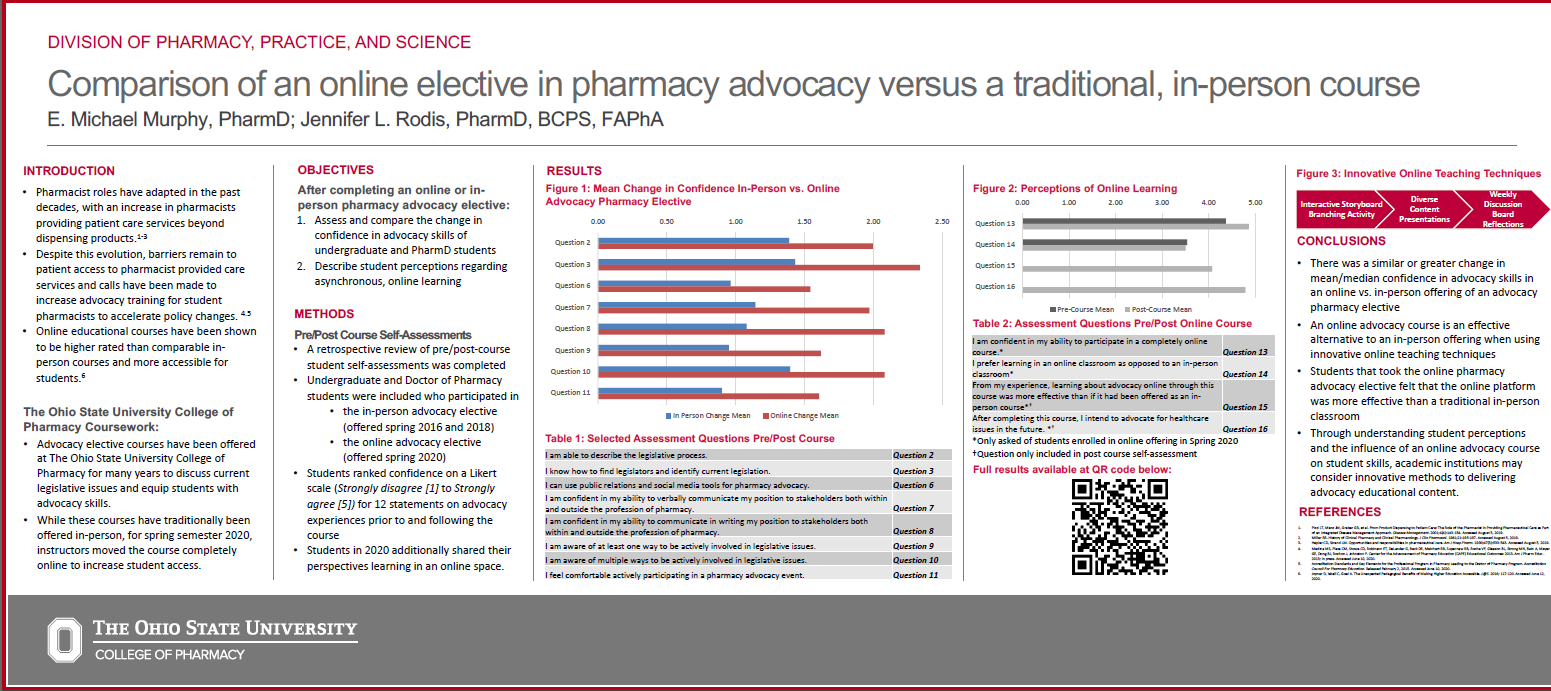 Comparison of an online elective in pharmacy advocacy versus a traditional, in-person course
Advocacy elective courses have been offered at The Ohio State University College of Pharmacy for many years to discuss current legislative issues and equip students with advocacy skills. While these courses have traditionally been offered in-person, for spring semester 2020, instructors moved the course completely online to increase student access through a more flexible offering. A retrospective review of pre/post-course self-assessments is being completed of undergraduate and Doctor of Pharmacy students who participated in the in-person advocacy elective (offered spring 2016 and 2018) or the online advocacy elective (offered spring 2020). Students have been asked to rank their confidence on a Likert scale (Strongly disagree to Strongly agree) for 12 statements to assess student confidence in advocacy experiences prior to and following the course. Online students additionally will share their perspectives learning in an online space prior to and following the course. Innovative techniques were utilized in the distance education space to increase student engagement with course content.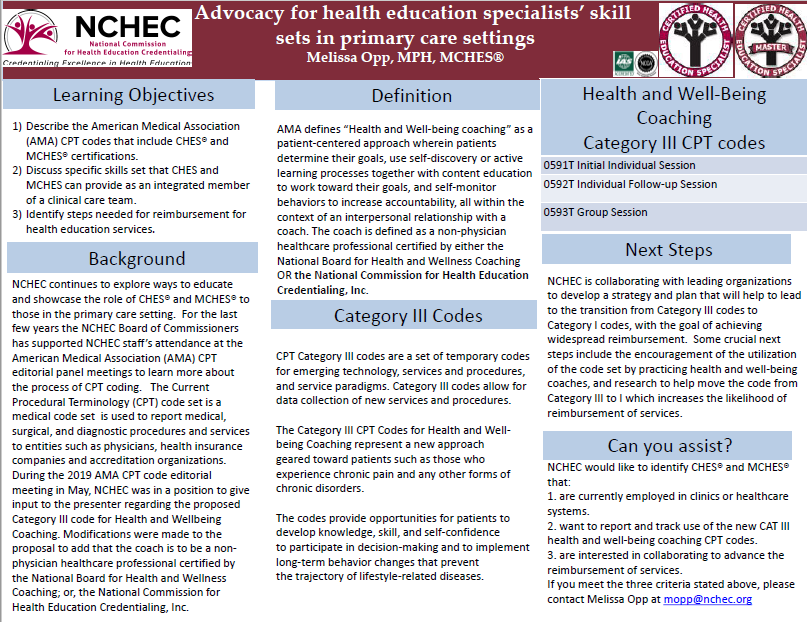 Advocacy for Health Education Specialists' Skill Sets in Primary Care Settings
NCHEC continues to explore ways to educate and showcase the role of CHES® and MCHES® to those in the primary care setting. For the last few years the NCHEC Board of Commissioners has supported NCHEC staff's attendance at the American Medical Association (AMA) CPT editorial panel meetings to learn more about the process of CPT coding. The Current Procedural Terminology (CPT) code set is a medical code set is used to report medical, surgical, and diagnostic procedures and services to entities such as physicians, health insurance companies and accreditation organizations. During the 2019 AMA CPT code editorial meeting in May, NCHEC was in a position to give input to the presenter regarding the proposed Category III code for Health and Wellbeing Coaching. Modifications were made to the proposal to add that the coach is to be a non-physician healthcare professional certified by the National Board for Health and Wellness Coaching; or, the National Commission for Health Education Credentialing, Inc. At that meeting, the AMA announced the approval of three distinct "Category III" codes for "Health and Well-Being Coaching" which went into effect January 1, 2020. NCHEC is collaborating with leading organizations to develop a strategy and plan that will help to lead to the transition from Category III codes to Category I codes, with the goal of achieving widespread reimbursement. Some crucial next steps include the encouragement of the utilization of the code set by practicing health and well-being coaches, and research to help move the code from Category III to I which increases the likelihood of reimbursement of services. CHES® and MCHES® who work or plan to work as an integrated member of a clinical care team can assist with these efforts.
| Access Date | Quiz Result | Score | Actions |
| --- | --- | --- | --- |
If you are a speaker or a registered attendee, you should login with your email address and the password: AdvocacySummit2020. The Password is case sensitive.
Not yet registered?
Click on the button below to register for this conference. If you have already registered for the Advocacy Summit at mySOPHE.org, you will receive instructions on how to access the Summit on October 2. If you have not received the instructions, please contact education@sophe.org.
REGISTER NOW
Need Technical Support?
This site has been optimized for Chrome, Mozilla Firefox, and Safari. If you usually use Internet Explorer, please switch to another browser.
Need further support, please visit our FAQ page.
Thank you to our Supporters